30 Mar

Boise's Hot Shots, Inc. Recognized as March "Small Business of the Month"

U.S. Senator Jim Risch (R-ID), chairman of the Senate Committee on Small Business and Entrepreneurship, has named Hot Shots, Inc. in Boise, Idaho as the Small Business of the Month for March 2017. Hot Shots, Inc. will be recognized in the Congressional Record of the U.S. Senate.

"Having operated in Boise for nearly two decades, Hot Shots, Inc. is a time-tested asset to the Treasure Valley and surrounding areas," said Senator Risch. "Growing and adapting with technological advances over the years has helped Hot Shots, Inc. continue to be a trusted delivery service that remains committed to customer service. I am proud not only of their success as a small business, but also of the good work they do by giving back to the community through charitable endeavors. I am glad to recognize them today as the U.S. Senate Small Business of the Month for March 2017."

Founded by Lance and Mary Curtis, Hot Shots, Inc. is a family-owned and operated small business headquartered in Boise, Idaho. The innovative vision of the company is driven by a management team with over fifty years of combined experience in courier services.  Hot Shots, Inc. has provided delivery services in the Boise area since 1998, offering delivery of anything from small parcels to large freight throughout Idaho with a same-day guarantee. Over the years the company has earned and maintained a high level of trust in the Boise area, with access to a number of secure locations including corporate, banking, medical, government, and military sites. Hot Shots, Inc. maintains its commitment to the Boise community in a variety of ways, whether by delivering diapers for the Idaho Diaper Bank or through their support of the Idaho Foodbank Backpack Program, among other community service activities.

The Senate Committee on Small Business and Entrepreneurship oversees proposed legislation on matters relating to entrepreneurship and provides oversight of the Small Business Administration. The committee also researches, investigates and reports all problems relating to America's small businesses to the full Senate. As Chairman, Risch will honor America's small businesses and entrepreneurs in the Senate each month.

https://www.sbc.senate.gov/public/index.cfm?p=PressReleases&ContentRecord_id=17A935A9-3BA5-45CE-8479-DE8EE8F3D4B4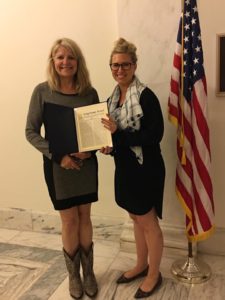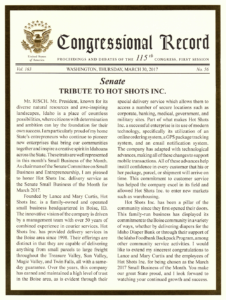 While visiting our Nation's Capitol, received a pleasant surprise from Senator Risch's office when we stopped by-the "official congressional record" of the Senate Tribute to our company! Thank you again everyone! So honored!